Hawker Scholar: 2002 – 2003
Degree: Bachelor of Business Studies (Agricultural Management)
Institution: Marcus Oldham College & in residence at Marcus Oldham College
Career goal: Contribute to regional Australia as an agribusiness leader.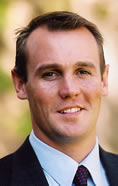 Born in Wagga Wagga in NSW and educated at Geelong Grammar, Sam Pincott is committed to the development of regional Australian business a rural communities.
While at Geelong Grammar he was elected House Captain of Cuthbertson Boarding House and made a school prefect.
Last year Sam completed the second year of a Bachelor of Business Studies in Agricultural Management at Marcus Oldham. During his first year he achieved outstanding results being awarded a significant number of high distinctions and distinctions in the subjects he studied.
In his second year he worked as a rural business-banking officer with the Adelaide Bank.
Here he gained first hand practical experience in the challenges of the day to day operations of financial and risk analysis for South Australian primary producers and agribusiness.
Sam is the first Hawker Scholar to attend Marcus Oldham College. The Trustee's hope that Sam Pincott is the first of many. In 2000 he was elected first year student representative and is currently the elected Student President of the College.
Sam has demonstrated a commitment to the ideas of the College and shows encouraging ability in both his practical and academic pursuits. The future of regional Australia depends on the ongoing commitment of young people like Sam Pincott.
There is little doubt that he and Charles Allan Seymour Hawker would have had a lot to talk about as one of Charles Hawker's primary interests was the long term development, viability and well being of regional and rural Australia.