Hawker Scholar: 2003
Degree: Bachelor of Business (Farm Management)
Institution: Marcus Oldham College & in residence at Marcus Oldham College
Goal: to participate in, promote and develop a more sustainable Australian farming system.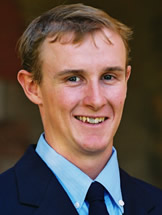 Rodger Shannon received his secondary education at The King's School Parramatta in NSW and is in 2003 is completing his third year of study at Marcus Oldham College in Victoria.
Rodger achieved distinctions and high distinctions in all of the subjects he studied in second year. His subjects last year included Farm Business Management, Marketing, Information Management, Agricultural Engineering, Plant Production and Management, Animal Production Principles and Integrated Management Studies.
Rodger is passionate about agriculture and is committed to making a significant contribution to his chosen field in the future. His childhood was spent on his family's corriedale stud and grain property at Cundal in Central Western NSW. Following the death of his father when he was 12 years old, Rodger's mother remarried and the family moved to a pastoral property in the Hunter Valley managed by his step-father.
At The King's School he was a capable student and participated in a wide range of sporting activities including rugby union, swimming and cricket. He was an active member of the School Cadet Corps and developed a range of leadership and teamwork skills during this time.
When he successfully completed his HSC, Rodger went jackerooing on a grazing property at Bourke with Clyde Agriculture and then to a mixed farming property on the Liverpool Ranges near Willow Tree in NSW.
Rodger is studying at Marcus Oldham College (Business Management) and is in residence at the College. Rodger intends to move into farm management in the future and eventually own land - where he will put his theory of sustainable farming into practice.
Rodger has already clearly displayed a strong commitment to the ideals of community, participation and personal development upon which the Charles Hawker Scholarship is founded.