1999
Mr Phillip Killicoat
Hawker Scholar: 1999 - 2001
Degree: Bachelor of Arts, Bachelor of Economics / Law
University: University of Adelaide
Career Goals: Undecided and the field is wide open. "Perhaps a lawyer .. business .. or in the public service".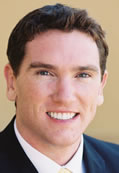 Phillip grew up in country South Australia and was educated at Bordertown High School. Phillip spent twelve months in Finland as a Rotary Youth Exchange Student in 1997. On returning from his exchange, Phillip continued to study Swedish independently, including it as one of his Year 12 subjects in 1998.
He is now proficient in both French and Swedish. Phillip was and continues to be a diligent and conscientious student as well as an accomplished athlete, swimmer and public speaker. In 1998 he was placed third in the national finals of the Apex High School Public Speaking Competition.
During his time at secondary school he was awarded distinctions and credits in the Australian Mathematics Competitions. While at Bordertown High School, Phillip was elected both House Captain and President of the Student Representative Council.
He acted as SRC representative on both the School Council and the Chaplain Committee and spent a week in Canberra as a delegate to the National Youth Leadership Forum. In 1999, the first year of his C.A.S. Hawker Scholarship, Phillip is in residence at St Mark's College in Adelaide and was elected to the position of St Mark's College Club treasurer.