Hawker Scholar: 2007 – 2010
Degree: Bachelor of Asian Studies Bachelor of Laws
Institution: ANU
In Residence: Burgmann College
Career Goals: To pursue a career with the Department of Foreign Affiars and Trade, the United Nations or in politics.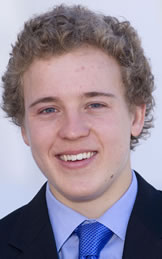 Mr. Patrick Mayoh attended St Ignatius College, Riverview from 1999 until 2005. He graduated in 2005 with a UAI of 98.6. Patrick is a most conscientious, self-motivated and capable student with an excellent work ethic and always maintains the highest level of academic standards and application.
The New State Wales Board of Studies recognized his efforts when he was awarded a 2005 Premier's Award for being a top all-rounder in the state of NSW.
His academic record at St Ignatius is outstanding with prizes in English, Mandarin Chinese and the Riverview Medal for Languages. He also received the Michael Cunich Memorial Prize for Excellence of Character, reflecting his strong success in academia, moral leadership and community involvement.
In 2003, 2004 and 2005, Patrick was presented a Gold Award for Application to Studies and the Student Prize for Excellence.
He is a passionate debater. In 2004 Patrick captained the Senior Catholic Schools Debating Competition in the Sydney Debating Network Competition. In 2005 he was captain of the Riverview GPS senior seconds premiership-winning team, captain of the ISDA finalist team and a member of the premiership-winning side in the National Jesuit Schools Debating Competition.
Patrick is a capable sportsman and musician and is involved with the Amnesty International Club.
He strongly believes in the importance of advocacy, leadership and cooperation. In 2003, he was chosen as a GPS Schools Representative to participate in the 2003 New South Wales Alcohol Forum. In 2004 he was selected as one of twelve state representatives to work on the NSW Commission for Children and Young People's reference group.
Patrick is a leader. He was an SRC Representative, House Captain and College Prefect. Through his leadership experiences, he has developed strong skills in working with others and advocating for issues he feels strongly about.
He also has a great interest in humanitarian issues and community outreach. In 2006 he was a volunteer for American Field Service as an English teacher in Ghana, West Africa. He lived in a village with a local family, learning how to survive in a community with limited and unreliable resources.
His Ghanan experience had a profound impact on his outlook on global issues, especially in relation to education, poverty, health services and access to basic amenities.
Patrick has also worked as a volunteer in several missions for the handicapped established by the Catholic Church in Cambodia and he has been involved with the St. Vincent De Paul Night Patrol Programme in inner Sydney and raised funds for Cana Communities and St. Canice's Food and Sleeping Shelter for the Homeless in the King's Cross area.
He's studied and worked in China and is a fluent Mandarin Chinese speaker. In 2003 he was selected by the Australia-China Council and American Field Service as a recipient of a China Experience Programme Scholarship to study Chinese history, language and contemporary society in Beijing.
He has a desire to further Australia's international, political and economic relationships, as well as addressing human rights issues. He believes it's through politics that changes can be made to the local and international community.
Patrick believes Australia's relations with the Asian region are vital. In order to best fulfil the goal of mutual cooperation and understanding, he will continue to futher his knowledge of the languages, societies, histories, politics and economies of the region in the future.
Patrick is a remarkable, capable and determined young man.