Degree: Bachelor of Commerce / Economics
Institution: Australian National University
In Residence: Burgmann College
Career Goal: To work as an economist and advocate for and work towards achieving a more socially just society in Australia and around the world.
Education History: Crusoe College 2007 - 2010; Bendigo Senior Secondary College 2010 – 2011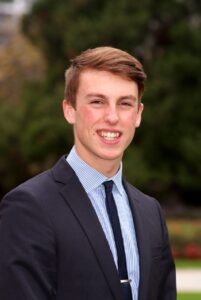 Patrick Clark is a remarkable young man who is destined to make an impact in this country and overseas. He is a strong leader and a powerful advocate for young people and has a well developed sense of social justice.
His strategic thinking, initiative and organisation, combined with a suite of interpersonal competencies that include his ability to inspire others has resulted in him already making a difference at a local, state, national and global level.
Patrick is from country Victoria. He grew up at Shelbourne. He was educated at Crusoe College to year 10 and last year completed his secondary schooling at Bendigo Senior Secondary College. His ATAR is 94.95.
At the College he has been a very active member of the Student Council, a student ambassador and has been presented with a significant array of awards. These include the Monash University Leadership Award, the Australian Defence Forces Long Tan Award for leadership, the 2011 Victorian Curriculum and Assessment Authority VCE Achiever of the Year, the Gareth Evans Memorial Award for Economics and the 2011 Bendigo Senior Secondary College Student of the Year.
His co-curricula activities have been impressive. He initiated a community action plan to build a sister-school relationship with a German school, began a sponsorship program to raise funds for the education and health care of a young Indonesian girl, organised and hosted a talent show benefit for a student travelling to Russia for the World Gymnastics Championship.
Patrick is a board member of the Goldfields Local Learning and Employment Network, is involved with the Victorian Gifted and Talented Parliamentary Inquiry, was selected as one of the top five students amongst an international delegation at the People to People Global Leadership Summit at Harvard University and has participated in, and at times driven the donation of unwanted school supplies and text books to refugee camps in Sudan and Eritrea.
All of these activities have been motivated by his deeply held belief that education is the ultimate medium of change.
Mr. Patrick Clark is a young man who has already achieved much in his relatively short life. He is an inspiration to others and leads by example. He is highly motivated and an outstanding young Australian. The future for Patrick Clark is exciting. Charles Hawker and would strongly approve of Patrick being awarded a scholarship.