Degree: Bachelor of Philosophy (Arts) (Hons) in Music
Institution: Australian National University
In Residence: Burgmann College
Career Goal: To work in the music industry as a sound engineer and producer and eventually to work in academia as a musicologist.
Education History: Lauriston Girls' School, Armadale VIC. ANU, Canberra ACT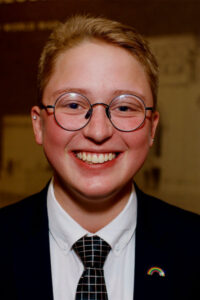 Mr. Oliver Brown is originally from Melbourne however he spent time during his formative years in Adelaide, Melbourne and London.
He is in his third year at the Australian National University. By any measure, Ollie Brown is an outstanding student. He has highly developed interpersonal and communication skills, is creative, motivated and organised. Oliver has strong leadership skills and a well-defined community spirit.
He has a broad range of interests from playing sport to reading and writing about modern history. In 2014 Oliver was awarded the Simpson Prize, a national history essay writing competition. His research essay on the historical accuracy and contemporary relevance of the ANZAC Legend was judged the best in Victoria and as a result he travelled to Gallipoli to speak at the ANZAC Day Dawn Service.
In his final years at secondary school, Oliver undertook International Baccalaureate (IB) studies, focusing on Physics, Chemistry and Mathematics.
During his Year 12 in 2015, he travelled to the University of Melbourne during after school hours to study first-year university physics. Oliver concurrently attained an ATAR of 99.85 and straight High Distinctions in his university subjects.
In 2015 Oliver also received full School Colours and the Lauriston IB All-Rounder Award for his work as Captain of Cricket and as Pastoral Care Representative.
In 2016 he was appointed to Team Lead a motion-simulator construction project under the auspices of the ANU Research School of Physics and Engineering. He also enjoyed working on a research project with the ANU Department of Quantum Physics in attempting to use 3D-printing technology to develop laser apparatus.
More recently, Oliver has applied his skills learned in the physical sciences to sound engineering. He now studies music with a double major in Music Technology and Musicology, where he finds his passions for both technical studies and creativity intersect.
Oliver has been very active in Burgmann College community. As a first year, he took on a leadership position as the First-year Sports Captain. Last year he was elected to the role of Sports Representative and served also on the Executive Committee of the ANU Interhall Sports Committee position as Treasurer.
In 2017 Oliver suffered a brain injury while playing rugby, which led to him spending several months incapacitated physically and verbally. While now fully recovered, he developed a keen interest in advocating for accessibility at Burgmann College and at the ANU for people with mobility impairments. Now in his third year at Burgmann College, Oliver was elected as President of the Burgmann Residents' Association. Oliver also participates in Arts events and has sat on numerous event committees.
In early 2018 Oliver came out as a transgender-identifying person, and is the first trans President at any ANU College or Hall. He has since involved himself in many LGBTQIA* advocacy initiatives, speaking at the Burgmann Coming Out Forum, at an intercollegiate panel at St Andrew's College in Sydney, and delivering a lecture for the ANU Ally Network.
Oliver Brown is destined to make a significant difference to research in this country and around the world. He is a deserved winner of a C.A.S. Hawker Scholarship.