Hawker Scholar: 2006 – 2008
Degree: Bachelor of Arts/Law
Institution: Australian National University & in residence at Burgmann College
Career goal: To secure a position with the Department of Foreign Affairs and Trade, the UN, the International Criminal Court or in Australian Federal Politics.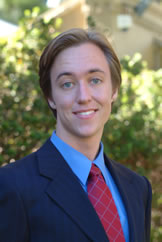 Michael Jones completed his secondary education at Knox Grammar School in 2004 with a UAI of 98.9 and in 2005, the first year of his Arts / Law degree at ANU.
Michael was Knox School Captain in 2004 and was an outstanding student in both the class room and on the sporting field. He is dedicated and committed and demonstrated a highly disciplined approach to his studies and his extensive extra curricula activities during his time at Knox. The results of that dedication are many and significant.
He was capable of balancing his academic work with his other school commitments, including his duties as School Captain, Second-In-Command of the school's cadet unit and his participation in debating, public speaking and mock trials to highlight just a few of his many achievements.
He was the NSW Youth Governor in 2002-2003, a regional finalist in the Plain English Speaking Competition, a recipient of a Gold Duke of Edinburgh Award. He is a senior surf life saver with the Manly Surf Live Saving Club, a member of the ANU Sailing Society and has been on a student exchange to Cambridge in the UK and traveled to Guatemala with Antipodeans Abroad, spending a month in 2002 working at the Chico Mendez Reforestation Project.
Long time Dean of Studies at Knox Grammar School Mr. Philip Cummins says of Michael that 'he is probably the finest of the young men with whom I have worked in my career. No reference can do justice to this superb person of outstanding character, quality, values and ability. He is a young man of prodigious and precocious substance who is universally respected and popular. Mentoring Michael has been a rare privilege.'
Michael Jones is an outstanding young Australian a deserved winner of a Hawker Scholarship.