Degree: Bachelor of Arts (International Relations) & Bachelor of Science
Institution: Australian National University
In Residence: Burgmann College
Career Goal: To pursue a career with the underprivileged that will allow him to provide them with the opportunities he enjoys in Australia.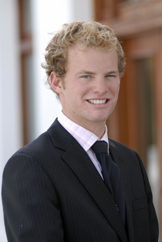 Matthew grew up on a farm in North West NSW, near the small community of Warialda. His family raised him to appreciate the value of hard work, agriculture and the outdoors. He was educated at Warialda Public School and The Armidale School, achieving a UAI of 92.95.
He is passionate about being an Australian and believes this country to be the best in the world. In 2002 he boarded at The Armidale School where he was involved in a wide range of sports including rugby, soccer and basketball. His other extra curricula included debating and public speaking, cadets and community service. He was Deputy Senior Prefect and Vice Captain of Football in his final year.
In 2005 Matthew travelled to Calcutta on the first annual Pilgrimage of Hope, working with Mother Theresa's Missionaries of Charity and spent time with the "Poorest of the Poor". He found the experience confronting. The people he met in the slums and the homes gave him more than he could ever give them and the experience helped shape the person he is today. The people who had nothing were the most generous and their ability to smile and laugh was an inspiration.
After returning from India he learned that the city of Sydney has one of the highest homeless per capita rates of any city in the world. Two of his mates and he decided to organise an excursion to work with less fortunate people in Sydney. The group worked with "Just Enough Faith", an organisation started by ex restaurant entrepreneur, Jeff Gamblin, who has distributed over 400 hot meals in King's Cross every night since 1993. This has since become an annual trip at TAS.
In November 2007 Matthew was awarded a gold Duke of Edinburgh Award and a Youth Service Award from the Order of Australia Association.
Matthew took a GAP year in 2008. He worked in an abattoir in Inverell, and then travelled to England to work as an abseiling instructor in a children's camp using the skills and experience he'd gained as a training officer in the Australian Army Cadets; then to London to work in a "Walkabout" Australian bar. During this time he represented Australia playing rugby for the London Wallabies against London New Zealand. Matthew then worked for 8 months at Mill Hill School in North London as a GAP student coaching sport and helping out in various school departments. Before commencing his university studies, he worked as a stockman on Gunyerwarildi station in northern NSW.
Australia has some of the brightest minds and best universities. He is particularly interested in the area of renewable energy. Australia has ample space and natural resources, which makes it perfect to lead the world in the inevitable switch to "green" power; however, he learnt from his overseas travels is that Australia is currently lagging behind. This industry is guaranteed to boom in the near future, and Matthew wants to be a part of it.
One of Matthew's real strengths lies in his enormous commitment to his fellow man. This commitment resulted in him receiving the Dr Kent Hughes Prize for Christian Service, the Armidale Freemason's Prize for Excellence in Community Service, the Rotary Citizenship Prize and a certificate of Commendation for Community Service from the Order of Australia Association.
In addition to all of the above, Matthew has also successfully undertaken the gruelling Hawkesbury Canoe Forum, was a member of the Student Organising Committee for the Step to the Future Youth Forum, took part in the TAS Forensic Science camp and sang with the TAS Singers.
Matthew displayed leadership skills of the highest order. He received the BT Fenner Prize, served on the SRC, the Sports Council, the Colours Committee and was a Round Square representative.
Matthew is a warm, friendly and outgoing. He is modest and unassuming and enjoys excellent relationships with both peers and elders. He has initiative and a mind of his own and the ability to get things done, quietly and without fuss. Matthew Coulton is a fine upstanding young man with much to offer.