2020
Mr Kristian Jongeling
Degrees: Bachelor of Laws (Hons) Bachelor of Politics, Philosophy and Economics
Institution: Australian National University
In Residence: Burgmann College
Career Goal: To uphold laws concerning the protection of basic rights and liberties by entering the judicial system or the diplomatic service
Education History: Hale School, Perth WA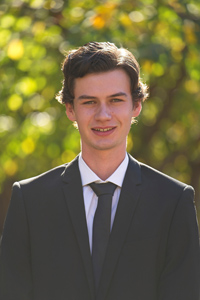 Kristian Jongeling is a hard working straight 'A' student with a keen intellect. Everything he does, he does well. He's accumulated an impressive list of awards, a testament to his skills and commitment to every aspect of his life in both the classroom and the broader community.
Hale School considers him one of the most well-rounded, formidably intelligent and engaging School leaders to have graduated in recent years. Widely admired by his fellow students, Kristian thrives on difficult challenges. He is recognised as a superb writer and communicator and was an outstanding student during his secondary education.
His ATAR was 99.50 and he received a Subject Certificate of Excellence for Literature which positioned him in the top 0.5% in the subject in WA.
He showed fine leadership skills as a School Prefect, House Vice Captain and House Prefect in 2019 and had a visible, significant and positive influence on many of his peers. He shows empathy for others and has an ability to see different perspectives. He has awareness, resilience, perseverance, self-control and humility.
His work as a Youth Ambassador for the disability services organisation Nulsen has shaped his own outlook regarding the challenges facing those with a disability. This was further heightened while working with people affected by Agent Orange and other disabilities in Vietnam and Cambodia.
He believes in the continued pursuit of equality and justice and his future career aspirations are focused on the protection of basic rights and liberties. There are many social issues he finds concerning in Australian, none more so than our treatment of refugees. The indefinite detention of many in offshore centres is something which disturbs him.
His academic successes and awards are numerous and significant. In addition to his outstanding ATAR, Kristian has achieved a High Distinction in the UNSW ICAS Writing Competition, was in the top 0.3% Australia wide in the Australian Geography Competition and achieved an A+, the highest possible score, in the Cambridge University IGCSE Additional Mathematics course.
Music is a significant part of his life. He is an outstanding solo cellist, pianist and singer. He was leader of the cello section of the Hale School Chamber Orchestra, a member of the School Senior Choir and in 2017 attended workshops at Berkley School of Music, USA.
He also enjoys debating and playing sport. He has a passion for soccer, squash, tennis and running.
His Deputy Principal says of him, "Kristian is motivated by an admirable idealism and desire to contribute to the improvement of society. He is passionate about social justice issues and he will, in the future, make an outstanding contribution to public life in Australia."
Kristian Jongeling is a deserved winner of a C.A.S. Hawker Scholarship.