Degree: Bachelor of Arts
Institution: Australian National University
In Residence: Burgmann College
Career Goal: To work as a professional historian, and/or to pursue a career in politics.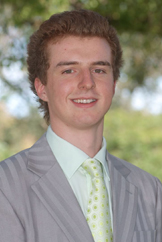 Jaan Butler is an outstanding student committed to making a difference locally, nationally and internationally. He has demonstrated high-level leadership skills, self-direction and initiative and is a positive role model for other young adults.
Jaan is passionate about history, the importance of maintaining tradition and celebrating the past. Jaan graduated from the Bendigo Senior Secondary College (BSSC) in 2008 with a ENTER score of 97.3.
He was a member of the student leadership team. He was a strong advocate for students in decision-making and a highly valued student representative on committees when there was a strong social justice cause. Jaan raised awareness of many issues within the school community including the Burma cyclone and the work of World Vision. He regularly represented the Bendigo College on various occasions including Civic receptions, media interviews, the parliamentary Inquiry into Dress Codes and School Uniforms in Victorian Schools, the Victorian Youth Parliament, the College debating team, Plain English Public Speaking events, College open days, Relay for Life and the Adopt a Highway program.
In 2008 Jaan was named the Bendigo Senior Secondary College Student of the Year.
In year 12, he was the Vice-President of the Student Council. BSSC is the largest VCE provider in Victoria, with over 1700 students in years 11 and 12. Jaan was heavily involved in planning school events, especially the college's centenary in 2007.
In addition, he was a student representative on the college Education Committee and consulted the Student Council in decision-making on timetables, assessment and reporting. He represented both BSSC and his previous school, Flora Hill Secondary College in debating and public speaking and was a Master of Ceremonies at college concerts, awards nights and ANZAC Day ceremonies. Jaan was also a member of the Bendigo Colleges' Symphonic Band.
Like many regionally based students Jaan is a doer. Last year he took a gap year and worked at a local meat works to qualify for a Youth Allowance.
For as long as he can remember, he has been fascinated by the past. His hometown of Bendigo is a living monument to the Victorian gold rush in both its architecture and identity. Growing up there kindled in him a passion for Australian history.
His interest in the complexity of the human experience is also profoundly influenced by his Polish grandfather's life. During the Second World War he was conscripted into the Polish army, taken prisoner, lost his entire family and later migrated to Adelaide, where he worked as a taxi driver.
To celebrate it's 90th year, in 2006 and 2007 Jaan researched the history of one of his former schools, Flora Hill Secondary College. His published history Life's Work, a brief history of Flora Hill Secondary School, 1916-2006 has been added to the collection of publications in the Bendigo Goldfields Library.
Jaan is a caring and compassionate young man with a commitment to social justice and the recognition of the successes of young people. He is highly intelligent and uses his talents to ensure he makes a positive difference to the lives of others.