Degrees: Bachelor of Business (Agribusiness)
Institution: Marcus Oldham College
In Residence: Marcus Oldham College
Career Goal: To drive positive change in rural Australia.
Education History: St Peter's College, Adelaide SA & Charles Darwin University (external), Darwin NT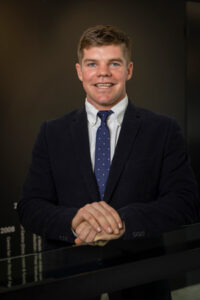 Hugh Dawson is the 10th C.A.S. Hawker Scholar to attend Marcus Oldham College. His early life was on his family's high rainfall property on the Fleurieu Peninsula in South Australia. They ran a herd of eighty breeding cows as a secondary income. He knew from the beginning he wanted to work in primary industries.
Hugh was a competent secondary student at St Peter's College in Adelaide and enjoyed a number of subjects including chemistry, physics, maths, and material products. Learning because it was likely to be part of the exam, didn't stimulate him. He was a more questioning and hands-on student.
His life changed following his graduation from St Peter's. He either entered tertiary studies through engineering or project management or roll the dice and apply to work on a 2.6-million-acre beef breeding operation at Beetaloo Station, eight hundred kilometres south of Darwin in the Northern Territory.
From the moment he arrived at the property his life changed. The eighteen-year-old, fresh out of boarding school was eager to learn, get in and have a go. Hugh had very high goals and a good moral compass and is a very driven individual with an equally strong work ethic.
He stood out as a potential leader from the beginning of his time at Beetaloo. His job as a junior level stockman quicky escalated to a Head Stockman role in his second year at the property, running the cattle yards and the team.
Hugh obtained a helicopter licence which significantly enhanced his role on the station. He has been an inspiring leader during his tenure at Beetaloo. Station work takes a lot of commitment, involves long hours in sometimes challenging and remote conditions. Hugh excelled in his work.
Hugh has a very optimistic outlook and this attitude always carried over to other team members. He grew personally and professionally. He is an inspiring young man who is passionate about Australian agriculture.
He is boundless in his efforts to promote the importance and opportunities of the agriculture sector to the greater public and has a very strong online presence promoting the industry.
In recent years, Hugh has taken part in numerous Q and A sessions with school students from across Australia, informing them about the industry and the many opportunities it offers.
In 2021, Hugh was one of four finalists for the coveted Zanda Mc Donald Award.  He won 2021 NT Young Achiever of the Year Award. He was a Northern Territory finalist in the 2021 NAB Agribusiness Rising Champions Award. In the NT section of the Awards Australia program, he was the winner of the 2021 Coleman's Contracting and Earthmoving Agriculture Award.
Hugh is the current Vice Chair of the Young Live Exporters Network and is a strong advocate for the 'Sober in the Country' charity organisation.
Hugh Dawson is a future industry leader. He has already achieved much. He will make a serious and positive difference to regional and rural Australia.