2019
Mr Finnegan Rowbottam
Degrees: Bachelor of Laws (Hons) and Bachelor International Security Studies
Institution: Australian National University
In Residence: Burgmann College
Career Goal: To enter politics as an elected representative
Education History: Hale School WA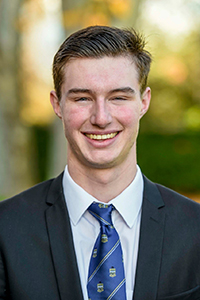 Finn Rowbottam is a resourceful, motivated, independent, resilient and mature student with a tolerant, positive and friendly nature. He is a team player and his interests are broad.
His academic record is a testament to his dedication to his studies and he has been richly rewarded with a trophy cabinet of awards from Hale School in WA. His 2018 list of achievements include in The Hugh Guthrie History Prize, Academic Achievement Colours, the Year 12 Ancient History Prize, Mathematics Prize and Politics and Law Prizes. Finn has also won awards in Modern History and Drama. His ATAR of 99.3 reflected his dedication to his studies.
Finn is an all rounder. He was an effective public speaker, House Prefect and participated in Hale School drama productions. He was an enthusiastic participant in school sport, notably basketball and football.
Hale's Deputy Headmaster David Bean describes Finn as one of the school's best students. Finn is a superb writer with and exceptionally well-developed ability to synthesise a range of points into his arguments. His document study skills are of the highest order. His literary analysis draws in social and political contexts in a very adept manner. He is a voracious reader with an enviable capacity for recall. His note-taking and summary skills are excellent and when there is time, he also reads for recreation.
He has always been interested in history, politics, law, economics and debating. He participated in the UN Youth Evatt Competition. He made the Australian Championships in 2018. He was often selected at Hale to deliver addresses at the school for key events including ANZAC Day and Valedictory. He regularly participated regularly in the Redfoot Youth Theater. His House Prefect and sporting roles taught Finn about teamwork and cooperation and the demonstration of good leadership.
During his senior years at Hale, he developed a strong interest in politics and historical figures including Prime Ministers Billy Hughes, John Curtin, Ben Chiffley and Robert Menzies.
This interest in history and politics encouraged Finn to discover more about my own family. His great grandfather George "Mulga" Taylor helped organise the 1891 shearers strike and served as a Member of the Legislative Assembly in WA from 1901-1930, serving as Speaker from 1917-1924. Another great grandfather, Henry Rowbottam was Chief Inspector of the WA Police Force. A great aunt served with Mother Teresa in India for 10 years.
His maternal great grandfather Joseph O'Neill, served in the First World War on the Ottoman Front, participating in the Battle of Rafa and the First and Second Battles of Gaza in 1917.
Because of this family history, he has been instilled with the principles of the value of service to family, community and the nation. He has a genuine interest in global affairs, developed because of the increasing shift in geopolitical power across the globe and his desire to help promote Australia's interests in the future. He believes he should give back to the country that has provided him with so many opportunities. He hopes to leave a legacy by helping to shape the future of this nation.
His ambition is to initially pursue relevant legal and political fields in the Department of Foreign Affairs and Trade or security bodies. His ultimate goal is to enter politics as an elected representative.
This will allow him to help not only represent and serve the community and their needs but to influence Australia politically and leave a legacy through public service. There is little doubt that C.A.S. Hawker would agree.
Please join me in recognizing Mr. Finnegan Rowbottam, a deserved winner of a C.A.S. Hawker Scholarship.