Degrees: Bachelor of Arts (major in International Relations) & Bachelor of Politics, Philosophy and Economics
Institution: Australian National University
In Residence: Burgmann College
Career Goal: To work overseas as a senior public servant in the field of diplomacy, development, intelligence or trade.
Education History: Pulteney Grammar School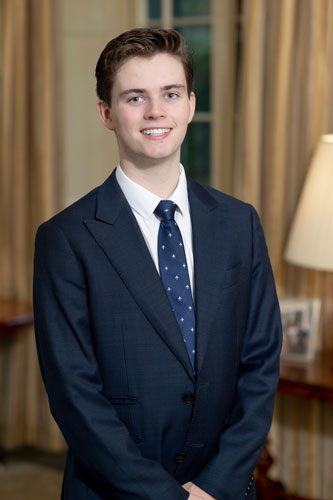 Finn Boylen is a straight A, academically gifted, hard-working, exceptional student, who always acts with humility, kindness and courage.
Graduating with an ATAR of 99.2 and a State Merit Award in English Literary Studies, Finn was also the recipient of prizes in Chemistry, Mathematical Methods and English Literary Studies. He represented South Australia twice at the Tournament of Minds International Final; represented Pulteney at various state academic competitions, including the da Vinci Decathlon, the Ethics Olympiad and the World Scholar's Cup; and was a recipient of a 2022 South Australian Young Writer's Award for his piece of short fiction entitled 'Playtime's Over'.
Through his education, Finn has served his fellow students and his school with grace and empathy. In Year 12, Finn held the position of Vice Captain of The School and was awarded the Australian Defence Force Long Tan Youth Leadership and Teamwork Award, which acknowledged his contribution as a leader, and recognised his great potential to positively contribute to Australia.
He rows and plays tennis and basketball. He was a member of the School stage band, concert choir, and musical productions, taking a lead role in Mamma Mia. He plays chess and debates. For his involvement in the performing arts, Finn was awarded School Honours, recognising his excellence of accomplishment.
Finn Boylen is an impressive young man. His maturity to engage as a leader, a peer, and a role model is demonstrative of his good character. He is young man of great integrity, firm intelligence and sagacious empathy. Finn's character defines him as someone able to engage with the nuance of contemporary politics, international relations, economics and philosophy.
Finn's determination to bring about positive change means his career will shape Australia for the better. The Trustees see Finn as a future leader who will uphold the values of Charles Allan Seymour Hawker.