Hawker Scholar: 2006 – 2008
Degree: Bachelor of Arts / International Relations
Institution: Australian National University & in residence at Burgmann College
Career goal: To secure a position with the Department of Foreign Affairs and Trade or an International NGO working in the area of social justice and conflict resolution.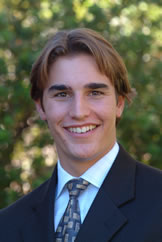 Duncan McGrath completed his secondary education at Knox Grammar School in 2005 with a UAI of 93.2. Duncan was Knox Grammar School Vice-Captain and a Prefect. He had an outstanding approach to his studies, showed all-round sporting ability and demonstrated tremendous team qualities. Duncan successfully participated in track and field, rugby, cricket, surf life-saving and baseball at Knox Grammar School at a very high level.
Duncan was an SRC representative and won numerous cadet unit awards. He reached the rank of Cadet Under Officer in a 600 cadet unit, the largest n the Southern Hemisphere. For the past five years, Duncan has marched in Sydney on Anzac Day wearing medals, won by family members. In 2004, Duncan was honoured to be the flag bearer on behalf of the units who served in WW1.
Duncan achieved school academic and sporting colours in 2004 and 2005 and state awards in Maths, Science, Economics, Geography and English. He is also a Bronze Duke of Edinburgh Award recipient. Duncan's extra curricula activities include water skiing, music, reading modern and military history and traveling.
Duncan has travelled to the battlefields of France and Belgium, had a very emotional and life changing experience at Anzac Cove on Anzac Day, been a student exchangee to Vancouver, attended the Youth Leaders International World Leaders Conference at Washington DC and the Youth Leaders International World Cultural Experience in France. He then returned to Australia via Italy, Austria, Germany, and Singapore where he visited the Changi prison.
Duncan believes everyone should have access to the opportunity, freedom and experiences he has had during his life. He feels deeply that he has a responsibility, through education, greater security and stability, to bring about real change in the world and create a better and brighter future for the next generation.
Duncan McGrath is an outstanding young Australian and a deserved winner of a Hawker Scholarship.