2016
Mr Daniel Coulthurst
Degree: Bachelor of Agribusiness
Institution: Marcus Oldham College
In Residence: Marcus Oldham College
Career Goal:  To design a digital platform using social media to improve the bottom-line for Australian agriculture
Education History: Riverina Anglican College, Wagga Wagga NSW, St Ignatius College, Riverview Sydney NSW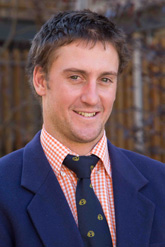 Daniel spent most of his early education in various schools around regional NSW. He was enrolled in six different schools before he was ten. He completed his HSC at St Ignatius College in Sydney as a boarder in 2007.
At St Ignatius he was a responsible and affable young man who strived for excellence in all of his endeavours. He had a well-developed sense of humour and a keen wit. He was a humble young fellow who made the most of the opportunities provided by the College.
Daniel was able to prioritize and balance his studies with a high level of co-curricula involvement. He was an avid sportsman competing in rugby and rowing and received an award for Best and Fairest. Daniel also included service in his efforts. He has worked as a volunteer with the St Vincent de Paul Society and with their night patrol van feeding the homeless and the disadvantaged. He is an excellent young man in every respect.
After St Ignatius he signed up for a building apprenticeship for a year but his rural roots took hold. A stint working as a Jackaroo with the Consolidated Pastoral Company in central western Queensland changed his life. He loved it but he recognised he could have a much greater impact on rural Australia by working towards a relevant tertiary qualification. Marcus Oldham College was the answer.
Since commencing at MOC in 2015, Daniel has been an outstanding student, achieving high distinctions in all disciplines. These outstanding results come from his strong drive to achieve, attention to detail, organisational skills, competitive nature and analytical ability. His contributions to the classroom are highly valued by both his lecturers and his peers.
Daniel thinks outside the square and has the ability to combine his strong academic and practical skills.
Daniel's analytical skills were recognised when he received the Graham McConnell Award for Business Planning. This award is given to the student who has demonstrated excellence in two major Case Studies. These Case Studies require the students to apply knowledge from all disciplines in preparing a strategic business plan for a real business, including resource analysis, SWOT analysis and a detailed budget for at least three years.
Daniel's Case Studies demonstrated strong practical farming knowledge, excellent analysis of the results and realistic budgets that considered the resource limitations of the business.
Daniel displays a high level of motivation, honesty and reliability in his academic pursuits and in all aspects of life on campus at Marcus Oldham.
Dan displays natural leadership qualities and is well respected by all staff and students at the College.
Growing up in the country but not living on the land has enabled him to gain a unique perspective on farming and agriculture. He has a great admiration for the 'people on the land'.
He has seen firsthand the struggles and hardships of families and friends on the land with droughts, floods, fires, pests and diseases sucking their livelihoods away from them. Having to sell the family property and move to town has resulted in depression and family breakdowns. Townships that were once thriving on agriculture are slowly shutting down as businesses are forced to close their doors due to the unsustainability of the local economy.
He wants this to change and he wants to be able to change it.
Daniel is destined to make a significant difference to rural Australia. He is a fine young man with integrity and commitment and is a deserved winner of a C.A.S. Hawker Scholarship.