Degree: Bachelor of Laws & Bachelor of Commerce
Institution: University of Adelaide
In Residence: St Mark's College
Career Goal: To pursue a career in the public service, the diplomatic corps or politics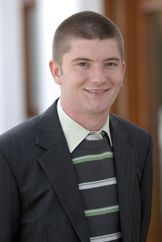 Callum Deakin is a remarkable individual and an outstanding student. He was born in Adelaide, lived a good part of his life in other states of Australia, and more recently, in the Fiji Islands, where his parents reside. He lived with his grandfather in Adelaide during his secondary education. He won a position in the selective IGNITE Programme for gifted students at Glenunga International High School in 2005. As part of the programme, his learning was vertically accelerated and he finished years 8 to 12 in four years. He graduated in 2008 with five perfect scores and a TER of 99.95.
The school community elected Callum to the position of Head Prefect in term 3 of 2007 until term 2 in 2008. He undertook his responsibilities in an exceptional manner and his ability to balance his school involvement and a demanding academic workload was impressive.
During his tenure as Head Prefect he was responsible for communicating student concerns and ideas to the staff, facilitating whole school assemblies and representing the student voice on a number of high level school committees. He showed himself to be an excellent strategic thinker, an outstanding communicator and a very effective conduit between students, staff and school leaders. Callum communicated his thoughts clearly and succinctly as well as suggesting creative approaches to problems.
Callum believes his experiences living in Cairns, Darwin and Fiji gave him an understanding of the different needs of society and the challenges that face the modern world. He feels that living away from his parents helped to develop his resilience and added depth to his character.
There is much more to Callum than his outstanding academic achievements. He has been involved in a broad range of hobbies and interests. He represented Glenunga International High School in debating for three years. He also participated in activities such as the Tournament of Minds on two occasions, as well as representing the school at the State Secondary Schools Constitutional Convention in 2005. He also participated in orienteering, fencing and basic training as a netball umpire.
He was a cast member of the school musical The Word in 2007, and competed in Glenunga Idol, a singing/karaoke competition. One particular hobby has been clogging, which is a unique dance form originating in North America and similar to tap dancing.
He is passionate about his community service. He joined the Friends of the Dry Creek Trail, a group rehabilitating the Dry Creek in the Valley View area. He is interested in world events and keeps up to date on current happenings from around the world. Two issues he is particularly passionate about are education and human rights.
Callum participated in a school study tour to South Africa. The tour focussed on community service in local community within the Limpopo province of northeast South Africa. It involved teaching at local schools, fundraising and environmental rehabilitation work.
He was also involved in many service groups, including acting as a member of the executive committee of the school International Club and as President of the Leo Club, an offshoot of the Lions International for secondary school students.
Although Australia is an island, according to Callum we are not isolated. Australia is well respected by our Asian neighbours and by the international community. As a young Australian, he sees it as his specific responsibility to contribute to making the world a better place. This includes working with developing countries to begin initiatives for change and to act as partners in working towards a better world.
He intends that his tertiary education will contribute to Australia's continued growth and development as part of the world's global village by providing him with the skills and a knowledge base to work towards these aims.
Callum Deakin is by any measure and outstanding young Australian who will make a difference as result of whatever he chooses to do in his life.