Degrees: Bachelor of Medicine & Bachelor of Surgery
Institution: University of Adelaide
In Residence: St Mark's College
Career Goal: To contribute to his community through public service in the medical industry and Army Reserves
Education History: St John's Grammar School, Belair SA, Marden Senior College, Adelaide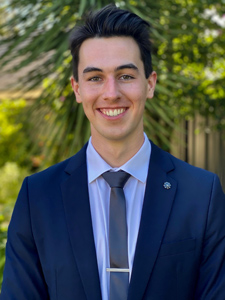 During this time at St John's Grammar School Benjamin Ransom demonstrated exemplary leadership skills and personal strengths. He is an outstanding student. He consistently achieved impressive academic results, demonstrating a high level of intelligence, deep thinking and fluency in expression. His ATAR was 99.75.
He applied himself diligently to his studies. He was highly respected by his peers, and took a supportive leadership role in collaborative tasks, listening to others while also advancing the progress of the group.
He consistently pursued academic extension opportunities throughout his schooling including excelling in many competitions and attending the National Youth Science Forum (NYSF).
Ben is driven by a strong desire to help his community.  A book he designed to allow dementia patients to connect with past memories through pictures and music resulted in him being a finalist in the young achievers' category in the Australian Innovation Challenge. He was a strong ambassador for others throughout his studies, ultimately being selected as School Captain.
As School Captain, Ben led St John's Grammar with integrity and distinction. He was a strong role model for his peers, pursuing excellence in his academic studies, on the sporting field and through his co-curricular commitments including music, public speaking and debating.
Ben is a natural leader who conducted himself with dignity and maturity. He is a student who excelled academically as well as through his extra-curricular involvement. He is a talented musician. He was the lead trombone in the Superband, as part of the National Competition of Generations in Jazz.
His final academic results included three merits in Chemistry, Physics and Research Project. Ben was awarded numerous subject and service awards including the prestigious Irvine Family Perpetual Award for outstanding achievement in Year 12.
Ben is naturally wired to serve others. His trademark was to live a school life beyond himself, always looking to support those around him and to help engineer change that would make his school a better place for his fellow students.
He is a volunteer at his local aged AnglicareSA facility. He is an ongoing Cancer Council Ambassador, helping to contribute to raising awareness and funds for cancer research and treatment.
Charles Hawker is described as a man who was 'great for Australia'.
Whilst reading his biography and tributes around his life efforts, Ben was inspired by Charles Hawker's resilience, determination and passion while facing physical, economical and wartime challenges. Hawker never gave up.
Ben's personal belief is that "greatness spawns from never giving up. This means believing in yourself. It means having a willingness to accept failure so you can learn the critical skill of adaptation. It means having integrity and not compromising your most important values."
Benjamin Ransom is a deserved winner of a C.A.S. Hawker Scholarship.