Degrees: Bachelor of International Relations & Bachelor of Politics, Philosophy and Economics
Institution: Australian National University
In Residence: Burgmann College
Career Goal: To make an impact in International Relations with either DFAT or the UN
Education History: Kirrawee High School (NSW)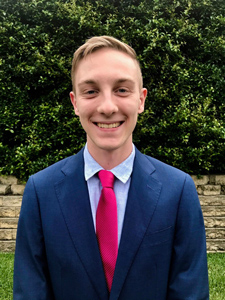 At the core of Benjamin Nolan's success is an unwavering resilience and determination. He is a good person and a dedicated student. During his time at Kirrawee High School in Sydney, he applied himself to a rigorous pattern of study and at the same time, pursued a wide range of social and student well-being initiatives.
His Head Teacher says of him that 'Benjamin acts a student role model. He applies himself to his studies. He is a caring and industrious young person who has made significant contributions to his peers and the broader school community. Benjamin has been at the forefront of many leadership initiatives that have left an indelible impression on younger peers, many of whom who would like to be like him".
He has a keen sense of social justice and a genuine desire to contribute to his broader community.
He has been consistently involved in multiple leadership bodies including the Student Representative Council, the Social Justice Council and the Student Environmental Council. In Year 12, Benjamin was a school Prefect and appointed the Principal's Representative which had him acting as a liaison person between Kirrawee staff and students.
This position gave him invaluable experience negotiating politics and the conflicting interests of two groups. He was able to coordinate a school wide climate audit, mental health sessions for students during the Covid-19 lockdown, study packs for year 12 students and numerous charity and social justice events.
Benjamin has inspired campaigns and fund-raising activities for Disability Awareness, Mental Health and Wellbeing, the Starlight Foundation, the Red Shield Appeal and the Cancer Council.
In recognition of his service within both the school and the broader local community, Benjamin was awarded the ADF Long Tan Award twice - in year 10 and in year 12.
Benjamin is a keen and capable public speaker and debater. He represented his school, the Sunderland Shire and NSW as a debater. He has been involved with UN Youth, attending conferences, mock negotiations and the model UN.
The combination of these activities stimulated an interest in politics, world events and social systems. Beyond this, they gave him the skills, confidence and experience to apply to a future in politics and international relations.
Scouting has been a major part of his life. He has achieved the Australian Scout Medallion and Queen Scout, the highest awards in both Scouts and Venturers. This has entailed years of community service and leadership, acting as a youth leader and organising and running charity events. He is working towards his Gold Duke of Edinburgh Award.
Benjamin is a committed and capable young man with a vision. He will make a significant contribution to his chosen career in the future. He is a deserved winner of a C.A.S. Hawker Scholarship.