Degree: Bachelor of Commerce
Bachelor of International Relations
Institution: Australian National University
In Residence: Burgmann College
Career Goal: A position with the Department of Foreign Affairs and Trade
Education History: Albany Senior High School, WA, St Peter's College, Adelaide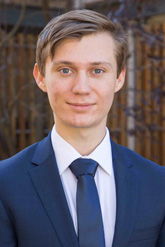 Originally from Adelaide, Alasdair McCall's family moved to Albany in WA when he was seven years old. He is the son of a parish priest.
Family is important to him and has heavily influenced the way he views the world. Alasdair has two siblings, a younger brother and an older, disabled sister. His sister's life has shaped his understanding that not all people have equal opportunities. She helped him to learn patience and compassion. He believes that through caring for his sister, he discovered the satisfaction that comes from helping others.
He is naturally curious and enjoys learning. Alasdair has grown up in a family passionate about ideas, history and culture.
He returned to South Australia with his family and attended St Peter's College in Adelaide in 2010. His father was appointed College Chaplin. He completed his IB in 2014 with an ATAR equivalent of 99.85.
He plays the violin and joined the string orchestra and orchestra at St Peter's. In 2014 he was appointed principal violinist. The violin has enabled him to serve his local community as a volunteer at his local church. He plays soccer and tennis and most recently he's taken up athletics. He also enjoys the call of 'the grease paint and stage lights' and has sung and acted in a lead role in the school's annual musical.
Alasdair is an outstanding student with a stellar academic record that placed him amongst the top year 12 students in Australia in 2014.
The breadth of his academic talent extends across Economics, Mathematics, Physics, English, Chemistry and French. He is a fine scholar and during his time at St Peter's College he has received many many academic prizes.
Alasdair's teachers speak very highly of him and see him as a young man with great insight and determination. His work ethic was faultless and he was able to make significant contributions to many areas of school life.
After completing year 12 in 2014, Alasdair was invited by the Headmaster to serve as Vice-Captain of St Peter's College in 2015. This opportunity significantly shaped his life and as a result, he has grown in confidence and character.
Throughout his school life as a scholar, leader, thespian, musician, fellow student and ultimately School Vice Captain, Alasdair's actions consistently expressed a generosity of spirit, selflessness and concern for his fellow students that stems from a deep empathy. This defines Alasdair's personal sense of duty to his fellow human beings. It equips him with the capacity to achieve an almost instant connection and communication with others from diverse cultures, backgrounds, status and position.
Alasdair lived his school life with compassion, energy, high moral purpose and a deep commitment to the Christian faith. He focussed on bringing out the best in others and directing team efforts for the common good. He thinks deeply and critically about the challenges of his generation.
Alasdair is a young Australian who will inspire others to live a life of service with similar values and inspiration shown by Charles Hawker's life work. Alasdair McCall is a deserved winner of a C.A.S. Hawker Scholarship.