2019
Miss Sophie Ludbrook
Degrees: Bachelor of Medicine and Bachelor of Surgery
Institution: University of Adelaide
In Residence: St Mark's College
Career Goal: To become a doctor with the same passion for community contribution that motivated Charles Hawker
Education History: Scotch College Adelaide, Hamilton Secondary College, Marden Senior College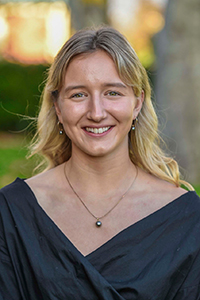 Sophie Ludbrook is a warm and generous person who always focuses on the strengths of others with genuine commendation. She is a keen academic, a resourceful learner and has high expectations to fulfill her enormous potential through grit and determination.
Sophie is an extremely smart, motivated and caring young woman. Sophie is a true team player and has also welcomed and embraced any opportunity to display her leadership skills. Her communication skills are of the highest standard and she is always respectful of others.
Her love of learning is only surpassed by her love of her horses and a candid desire to serve others. Sophie grew up on a property near Mylor in the Adelaide Hills with a tight-knit family and a menagerie of animals. She has always wanted to study medicine.
As a hospital volunteer and patient, this desire developed into a goal. She volunteered at the Royal Adelaide Hospital in a research and clinical trials unit for three years. She had unique opportunities to be a contributing member of a multidisciplinary healthcare team, working with nurses, professors, surgeons, administrators and medical students.
It was in this role she learned of not only the positive facets of medicine, but also the lows - potential for stress, overwhelming responsibility and a delicate life-balance.
During her time at Scotch College, Sophie was the school's Salvation Army leader and a member of the Student Action Team (SAT). She and her team ran a number of appeals, including the school's first 'Sleep Out' to promote awareness and raise funds for the homeless.
In the SAT leadership team, Sophie was involved with the White Ribbon Campaign, the Cancer Council and the Red Cross. She earned the School Community Contribution Award at Scotch in 2015 and 2016.
Her other community based activities include working with and raising funds for the children's charity Variety as a participant in the Miss World Australia competition. Sophie also organised a local forest walk and horse ride for Beyond Blue. This brought her community together in a supportive way during a challenging time following the suicide death of a friend.
She is a sports person, a classical and contemporary pianist, a jazz dancer, a performer and a model. She currently holds the title of Australian Super Model of the Year.
She has represented South Australia in showjumping for Pony Club and National Interschool competitions in Perth, Melbourne and Sydney where she captained the State team to a Spirit Trophy victory.
She has a genuine interest in politics and public health, particularly in rural and Indigenous communities. She represented Australia in India at the Global Alliance for Innovative Leaders Conference. This experience exposed her to global issues including accessibility to health care, women's health and health education. It changed her life.
Her subsequent India, Nicaragua, Costa Rica and remote Australia experiences gave her an understanding of these issues around the globe and helped clarify her personal goal to enter medicine with a focus on public health and developing better health services in rural and remote communities.
As a result, Sophie chose to reassess her study plans and returned to SACE to ensure she achieved the grades she needed to enter medicine. She achieved four A+ results and three merits and an ATAR of 99.95 (adjusted, 98.85 raw), academic achievement Colours from Scotch College in 2016, an Academic Achievement Award from Marden Senior College in 2018 and a UMAT result in the 85th percentile.
She has been inspired by the life of Charles Hawker and is determined to pursue a career and life with the same passion and dedication that motivated him. Sophie is a deserved winner of a C.A.S. Hawker Scholarship.