2018
Miss Nathalie Johnstone
Degrees: Bachelor of Law (Hons) and Policy Studies
Institution: Australian National University
In Residence: Burgmann College
Career Goal: A career in community development, policy & strategy
Education History: Trinity College, Gawler SA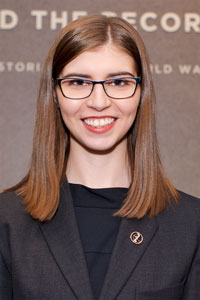 Miss Nathalie Johnstone is from the Barossa Valley in South Australia. She is an outstanding student. She has an excellent mind and strength of character. She is a highly intelligent and creative young woman. She is highly motivated, has a pro-active approach to life with well-developed personal study skills and self-discipline.
Her year twelve results in 2016 (ATAR 98.55) placed her in the top two percent of Australian students. In recent years she has been diagnosed as dyslexic and epileptic. Nathalie deferred her university entry and took a gap year in 2017 to learn how to better manage her epilepsy. She is now ready and excited about the opportunities available at Burgmann and the ANU.
Nathalie is a leader. She was Trinity College Gawler School Captain in 2016, and received Pockets in recognition of her contribution to the co-curricular activities of Music, Debating, Tournament of the Minds, CARA Camp and the Cambodia Mission Team.
Her other community's activities and volunteering include contributions to the Skinny Lattes Women's Cycling Club, Cycling South Australia, the Williamstown Historical Society, Youth Affairs Council of South Australia, YMCA South Australian Youth Parliament, Barossa Youth Advisory Committee, the Light Electorate Office History Blog, the Williamstown Action Group, Adjudicator for Debating SA and the Beagle Association of South Australia.
She is also a volunteer as a Trinity College Old Scholar where she talks about her experience with dyslexia and her learning strategies.
In recognition for these contributions, in 2016 she received an Order of Australia Student Citizenship Award, an Australian Defence Force Long Tan Leadership Award and the Trinity College David Strange Memorial Award for general excellence and service to the College.
In 2015-2016, Nathalie was the Trinity College Foundation General Excellence Scholarship recipient. In 2016 she was named Senior Debater of the Year by Debating SA and has completed both Bronze and Silver Duke of Edinburgh Awards.
Further achievements include being a Winner of the Simpson Prize in 2014, which involved her traveling to Canberra and Gallipoli.
Nathalie has a strong sense of social justice. She has a superb mind and is a highly intelligent, thoughtful young woman with great probity, warmth and humility. She is inspired by C.A.S. Hawker's life story and hopes to follow his legacy of public service.
Nathalie's outstanding achievements so far have been made possible by her high level of commitment to setting and achieving her personal goals. She has demonstrated resilience despite at times having to deal with enormous challenges. Nathalie is a deserved winner of a C.A.S. Hawker Scholarship.