Degree: Bachelor of Business (Agriculture)
Institution: Marcus Oldham College
In Residence: Marcus Oldham College
Career Goal: To become a driving force within Australian agriculture
Education History: Boree Creek Public School, Boree NSW, The Scots School, Albury NSW, Melbourne Girls Grammar, VIC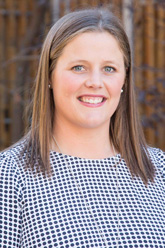 Miss Josephine Webb (she prefers Jose) went from School Captain at one of the smallest primary schools in a famous country town, to House Captain in one of the nations best-recognised residential Colleges. The country town was Boree Creek in the Southern Riverina in NSW and the College was Melbourne Girls Grammar.
Boree Creek Primary School is south of Narrandera, west of Wagga Wagga on the road between Lockhart and Morundah in NSW. Deputy Prime Minister Tim Fischer famously ran the country from Boree Creek when he was acting PM in the late 1990s.
Jose's family own and operate a mixing farming business "Lakeside" between Lockhart and Urana, an hour west of Wagga Wagga.
Boree Creek Public School had a total of 20 students. This is where Jose believes her teamwork, leadership, tolerance and drive began. At the completion of primary school, she moved away to boarding school, The Scots School Albury. It was here that her passion for agricultural education and sport became evident.
She completed her secondary schooling at Melbourne Girls Grammar (MGGS) in 2010. MGGS was character building and an eye opener for the girl from Boree Creek Primary. Not only because she was living away from home but also because most of her fellow students had a different upbringing, background and aspirations to her. She was very grateful for the worldly experience gained at MGGS.
After completing her VCE at MGGS, Jose followed her passion of a career in agriculture. In 2011 she worked on 'Iffley Station', a 1.2 million acre cattle property in the Gulf of Carpentaria in Queensland. It was an exhilarating experience. After 12 months she decided she needed the next challenge and moved to western Victoria where she worked on former PM Malcolm Fraser's family property 'Nareen Station' for two years.
In 2014 Jose applied for and was successful in obtaining a scholarship to attend Marcus Oldham College to study Farm Management. She was subsequently awarded an undergraduate cadetship with JBS Australia, the world's largest meat processing company.
She attended National Lamb Supply Chain Group (LSCG) meetings where she worked with members from Meat and Livestock Australia (MLA), Sheep Cooperative Research Centre (CRC), State Department of Primary Industry (DPI), Murdoch University and the Sheepmeat Council of Australia. The LSCG exposed her to the meat science and supply chain management research development and extension (RDE) initiatives and capacity in Australia and their contribution at an International level.
This experience was a worldly opportunity that broadened and strengthened Jose personally and her overall knowledge of the industry.
In the near future Jose will be a driving force in Australian agriculture. She also hopes to encourage and mentor other young Australians like herself to succeed in their chosen profession.
Charles Hawker's biography inspired Jose. Throughout his life C.A.S. Hawker displayed true determination, passion, a strong work ethic, loyalty and leadership. These are all traits Jose aspires to achieve.
Jose is destined to make a significant difference to agriculture in Australia. She is a deserved winner of a C.A.S. Hawker Scholarship.