Degrees: Bachelor of Politics, Philosophy & Economics and Bachelor of Arts
Institution: Australian National University
In Residence: Burgmann College
Career Goal: A leader in developing government policy
Education History: Radford College, Canberra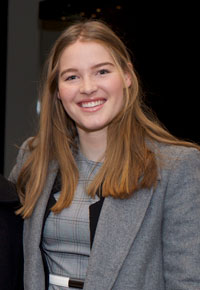 Miss Jennifer Kerr is an academic all-rounder. She completed her year twelve studies at Radford College in Canberra in 2017 with an ATAR of 99.3.
Her teachers describe Jennifer in glowing terms. She is an outstanding student. She is diligent; she applies herself to every task at hand with determination. She is cogent and insightful. Her creative writing is engaging and inspiring. She has a superior work ethic and fervour. Her academic rigor and natural curiosity about content and the enthusiasm with which she incorporates new ideas into her existing knowledge base, sets her apart from others.
Jennifer is a well-rounded and grounded person who consistently demonstrates outstanding leadership qualities. She exudes a calm confidence that is both inspiring and reassuring. In 2017 Jennifer was elected a College Prefect, House Captain and Snowsports Captain. In 2016 she received a Radford Collegians' Award for exceptional performance across academic achievement, co-curricular participation and citizenship.
She represented her school at several National Press Club addresses and a model United Nations debating competition. In 2016, she was a member of the organising committee for the L'Arche disco. The event was for disabled youth and their carers in the ACT community. Many of the attendees at the disco were from Black Mountain School, a school in Canberra for children with intellectual and physical disabilities. Jennifer worked at the school as a volunteer teacher's assistant.
She has volunteered for Yellow Van and used her passion for cooking to prepare meals to be delivered to at risk families. Her group used unwanted food from supermarkets and businesses that would otherwise go to waste. Jennifer also spent a week in Northern NSW as a volunteer teacher's assistant at an isolated indigenous school, the Tingha Public School.
Jennifer is a talented and versatile sportswoman. Each year from 2011 to 2016, she was awarded the Radford College Excellence Medal for Snowsports and in 2016 she was the Radford Female Snowsports Performer of the Year. Jennifer is an avid orienteerer, placing in Secondary Schools Orienteering Championships and the Australian Running Festival. Orienteering combines her love of cross country running, map reading and problem solving into one sport.
One of Jennifer's hobbies is cooking. Her favourite cuisine is French provincial, from fine dining to rustic country cooking. It is special to make meals to share with others and with her family and others. She is also an avid gardener. She grows fresh herbs and summer vegetables. She admits it's an unusual thing for a young person to enjoy. It has grown out of her love of cooking. Jennifer believes people gain personal satisfaction and pride when they grow their own food.
She has a real interest in politics and social issues. Her ultimate goal is to be a leader in developing government policy, either in politics or in the public service. The strength of the PPE degree at ANU is that it opens many doors in public service and politics by giving students an in-depth understanding of the three areas important to decision making.
For policy to be successful, it must be moral, economically justifiable and politically sustainable. This degree will provide a foundation for a career in public service or politics, which is where Jennifer will no doubt make significant contributions in the future.
Miss Jennifer Kerr is a deserved winner of a 2018 C.A.S. Hawker Scholarship.