2023
Miss Hannah Benhassine
Degrees: Bachelor of Laws & Bachelor of International Relations
Institution: Australian National University
In Residence: Burgmann College
Career Goal: To make a positive impact in Australia and the world by pursuing her passion for international relations, advocacy and diplomacy.
Education History: Melbourne Girls' College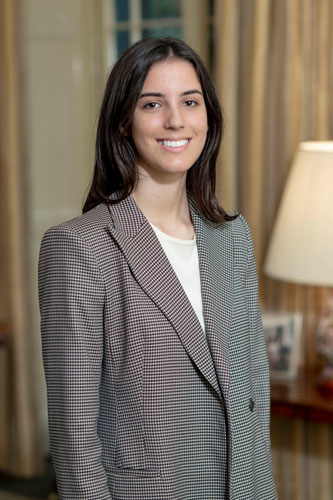 Hannah Benhassine is a special, gifted, and caring student. She is a student leader, academically brilliant and greatly respected by her peers and seniors. Her interests are broad and inclusive. They range from politics and international relations to sustainability. She has strong skills in leading a team and collaborating with others.
Hannah shone during her six years at Melbourne Girl's College. Her list of academic and extra-curricular achievements is impressive. She was Public Relations Co-Captain in 2021, the recipient of the Cavell Zangalis Leadership Scholarship in 2020, a recipient of the Deakin Young Influencer Scholarship, and a cadet for the College newspaper / magazine The Aviso in 2020/2021. Hannah received the WEP Going Green scholarship and was the Middle School Philanthropy Captain in 2019.
Hannah was a recipient of the French Academic Excellence Award in 2021 and 2022, the Global Politics Academic Excellence Award in 2022, and the English Academic Excellence Award 2020. Her ATAR was 99.55.
In her final year at MGC, Hannah was selected as one of the College captains, the pinnacle of the College leadership program.
As a captain, she was exemplary, representing the school, and being a leader and confidante of many MGC students. She is thoughtful, articulate, inspiring person, and a role model for her generation.
Her leadership role enabled her to consider how the College could meet the needs of diverse cohorts, including different cultural, religious and gender groups. She was capable of representing students in a holistic and empathetic manner.
Throughout 2021 and 2022, Hannah participated in the Model UN Evatt Debating Competition, the Model UN in French, and was chosen as a representative for the UN Youth Young Diplomats Tour.
Hannah's interest in international relations, current affairs, diversity, and identity has been a thread across her studies and her leadership roles at Melbourne Girls' College. Hannah Benhassine has already and will continue to make a difference.