"The Trustees of the CAS Hawker Memorial Scholarship Trust Fund warmly congratulate country based Hawker Scholar Phillip Killicoat on him being awarded a prestigious Rhodes Scholarship," Chair of the Trustees Charles Hawker said.
Phillip will be studying for a Masters degree in Economics at Oxford for the next two years.
Phillip was awarded his CAS Hawker Scholarship in 1999. He resided at St Mark's College and studied at Adelaide University. This year Phillip graduated with degrees in both arts and economics. He gained four High Distinctions and one Distinction, won the Citigroup Australia Scholarship for the top graduate in economics and the Economic Society Prize for Economic Data Analysis.
Phillip grew up in country South Australia and was educated at Bordertown State High School. Phillip spent twelve months in Finland as a Rotary Youth Exchange Student in 1997.
On returning from his exchange, Phillip continued to study Swedish independently, including it as one of his Year 12 subjects in 1998. He is now proficient in both French and Swedish.
As a St Mark's Senior Tutor, Phillip was a diligent and conscientious tutor and student as well as an accomplished athlete and public speaker.
While at Bordertown High School, Phillip was elected both House Captain and President of the Student Representative Council. He acted as SRC representative on both the School Council and the Chaplain Committee and spent a week in Canberra as a delegate to the National Youth Leadership Forum.
"Phillip is an outstanding young Australian. We are delighted that his efforts and commitment over the past five years to his studies and his broad participation in student activities have been rewarded with a Rhodes Scholarship.
"We wish him well and are delighted he intends to return to South Australia and work in the agribusiness sector," Charles Hawker said.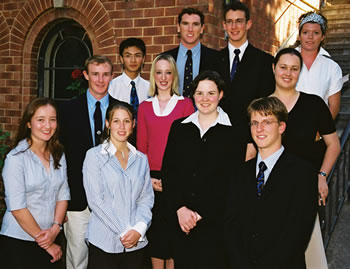 Hawker and Rhodes Scholar Phillip Killicoat (top row – left) at St Mark's College with fellow Hawker Scholars.